The hardest step for all new residential property investors is the first one: the research. Buying an investment property involves a lot of extra research we wouldn't normally consider when purchasing a property to live in. It's a lot to take in, we know.
To help you navigate this step, we've created this introduction to the property investment world so you can walk into it with eyes wide open, ready to hit the ground running.
Short on time? Download a take-home copy to read offline.
---

Investing in property: the pros and cons
If you're on the fence about buying a rental property, it's worth weighing up the pros and cons of real estate investment and asking yourself some serious questions upfront.
Pros
Long-term passive income. Properties with high rental yields can provide a source of income.
Market appreciation/capital gain rewards. Investment properties bought for their capital gain potential can help you accumulate wealth over time and create a "nest egg" that you can cash in when you sell.
Leverage. As your investment properties accumulate wealth, you can then use that wealth as equity to purchase more properties for your portfolio.
Tax deduction. Depending on how you structure the ownership of your rental properties, you may be able to offset the costs of the property against your personal income tax. Learn more

here.

Be as hands on or hands off as you like. While being a landlord can be demanding, if you hire a property manager you can become less involved if you wish.
Better ROI on your savings. Investing in real estate can lead to a better return on investment than many saving accounts.
Cons
It is a long-term strategy. Generally speaking, property investment is a long game. It's likely you won't make major gains in the first few years.
Not liquid. Property can't be sold off quickly.
Susceptible to interest rate changes. While an interest rate drop will take the pressure off your mortgage payments, if the reverse happens, you could end up running at a loss.
Risk of overreach. If you manage a large portfolio of properties, you may find yourself financially stretched if market conditions change, for example, if interest rates rise.
Questions to ask yourself
Why do I want to invest in property? What are my goals? Do you want to have an extra source of income from rent fees, or are you looking to build a nest egg for your retirement? Try to align your investment purchases with these goals.
Can I afford it in the long term? While the market is cooling and interest rates are low, it may not stay this way. Make sure you are in a strong financial position to whether any market changes, prolonged rental vacancies or big maintenance bills that might arise.
Read more: Managing a rental property | 3 ways to reduce landlord stress | Is property investment right for you?
---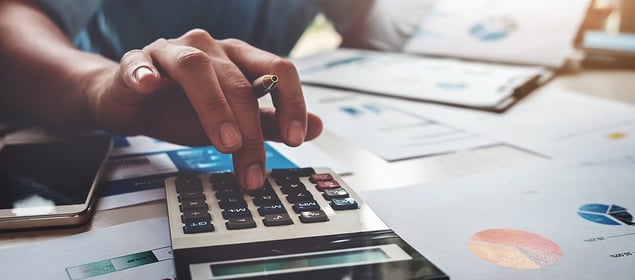 Can you afford to buy an investment property?
Deposit and/or equity required
As of 1 January 2019, investors need to provide a 30 per cent deposit on an investment property loan1 or a combination of equity and deposit that equals 30 per cent.
Tip! Use this calculator to assess how much you can borrow.


Can I use KiwiSaver to buy an investment property? No. Buyers can only access their KiwiSaver for their first home purchase and, in some exceptional cases, as a second-chance home buyer, provided they meet all the criteria. In both cases, you must live in the home. You cannot use KiwiSaver to purchase an investment property.
Read more: No deposit? How to get a home loan with your existing home's equity

Upfront purchase costs
In addition to your deposit, keep in mind that you'll still need to have cash on hand to pay for your due diligence and legal costs—the same as any normal property purchase. This can include:
Valuation fees (if you plan to use the equity in a property you currently own as a deposit or partial deposit).
Builder reports.
Lawyer/conveyancer fees.
Loan-to-value ratio
Loan-to-value ratio (LVR) is a tool to assess the health and debt levels of your property portfolio. In short, it is your combined loan debt divided by the combined value of all your asset/s. Here it is expressed in a formula:
LVR = Remaining loan amount(s) ➗Total home(s) value
For example: If you have two properties, say one house valued at $600,000 and an apartment valued at $400,000 (combined total of $1,000,000), and $300,000 remaining debt across your home loans, you have an LVR of 30 per cent across your portfolio.
A high LVR, usually over 90 per cent, is a sign that a property portfolio is overstretched. In New Zealand, banks will rarely loan to investors who have an LVR over 70 per cent2.
Read more: Is the load-to-value ratio important when buying an investment property?
Mortgage repayments
There's more than one way to pay off a property, and the type of mortgage you choose can affect the size of your repayments and how long it takes to pay off your home. Here's a quick summary of the most common loan structures in New Zealand:
Table loan
This is the most common type of loan structure in New Zealand. They are usually set for 30 years. At the start of the loan, you're mostly paying off the interest and finish up paying mostly principal towards the end of the loan.
Source: Westpac.co.nz
Pros:
If you use this structure with a fixed interest rate, repayments are regular and at the same amount, which makes it easier to manage.
Cons:
If you have irregular income, it can be difficult to meet your repayment obligations.
Tip! Here's a handy tool to work out your repayment costs.
Revolving credit or offset loan
In essence, a revolving credit loan rolls your home loan, income deposits and day to day expenses into one credit account. Because of your home loan, you are essentially in overdraft mode with a credit limit. For example, you take out a home loan of $500,000 with a credit limit of $510,000. As your income is paid into the account, you pay off your day to day expenses and whatever is left goes towards paying off your loan. If you spend $5,000 on everyday living expenses and then receive an income payment of $8,000, this income will pay off your $5,000 of living expenses while the remaining $3,000 will go to paying off your loan.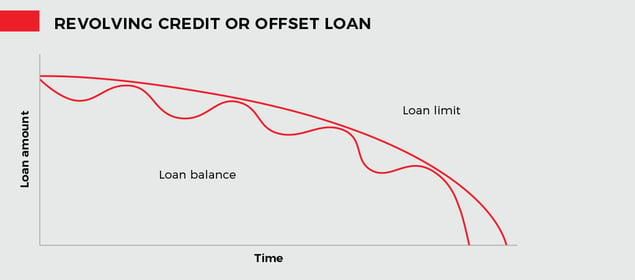 Source: Westpac.co.nz
Pros:
Usually involves lower interest rates.
You can pay off your mortgage faster.
Good for people who have an irregular income, e.g. self employed.
No set loan term.
Cons:
Requires good financial skills and discipline.
Banks may reduce your credit limit to make you pay off more of the loan.
Often has an application fee.
Interest only
An interest only loan is a temporary loan that allows you to only pay the interest of your mortgage, rather than the interest and principal (the amount you borrowed). Your repayments are less, which gives you more disposable income, but you don't make any headway in paying off the loan itself. In New Zealand, property owners can have this type of loan structure for up to five years3.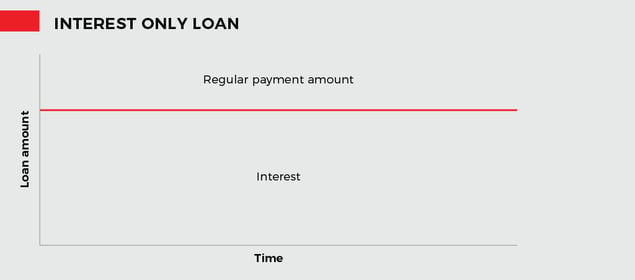 Source: Westpac.co.nz
Pros:
Smaller repayments, which can free up funds for other projects, such as renovations.
Cons:
It takes longer to pay off your loan.
Ongoing costs
In addition to your mortgage repayments, also take into account ongoing rental property expenses for:
Maintenance and repairs (if the property is new, there's usually none for the first four to five years).
Insurances.
Council rates.
Body corporate fees.
Property management.
Rental return
When assessing a rental, also look into the return you'll make from rent fees, AKA your rent forecast. To quickly assess a property's rent forecast, look at the average rent yield for the suburb and the style of property it is (house, apartment or flat). The higher a property's rent yield is, the greater its potential for return.
Read more: Which Hamilton properties have the best rental yield?
As a guideline, the average rent yield across all property types in Hamilton is 4.6 per cent, while the average rent is $409 per week ($21,680 per year)4.
If you want to run a cash positive property, take into consideration all the ongoing costs mentioned earlier and whether your rent fees will cover those costs. Also take into account the time your property may be untenanted while you search for tenants and conduct any maintenance or repairs.
Lastly, if you are seriously considering a property, it is a good idea to get a rent appraisal for a more accurate idea of what rent return to expect.
---

What to look for in an investment property
Below is a list that covers some of the most important aspects when selecting a residential investment in Hamilton.


Location
This is an obvious and much-touted attribute of real estate investment. Firstly, consider who will rent the property. For example, a property in the Hillcrest area will likely appeal to university students, lecturers or even people wanting to get into the Hillcrest High School zone. Does the property you are considering appeal to this group? Consider also the property's proximity to key attractions and other amenities a tenant may find desirable. For example, in addition to being close to the University, students may find being close to shopping and public transport desirable.


Durable, low-maintenance materials and design
As a property owner, the less maintenance and repairs you have to undertake, the more cost-effective your property is. When assessing a potential rental investment, look for low-maintenance features such as brick or uPVC cladding, small sections of grass (or no grass at all) and durable flooring.


Read more: Low-maintenance landscaping for the Waikato climate | 5 renovation tips to create a low-maintenance home
Property appeal
Capital gains can come as a function of a growing market or because buyers perceive a property or location is moving better than the rest of the market. This is particularly true where a property has a unique attribute that is growing in demand but can't be expanded. Properties with lake or river views and in popular school zones are good examples of this trait.


Upcoming developments and zoning projects
It is also worth researching any upcoming city development and (re)zoning projects. These could have a significant impact on the sale appeal of a property down the track. For example, the new Waikato Innovation Hub is likely to make properties in Hamilton's eastern suburbs highly prized. Whereas, a new highway set to be built along the edge of your property may have the opposite problem.


Section, floor size and layout
Our experience tells us that properties with desirable configuration are popular with tenants. Improving 'tenantability' improves occupancy and therefore increases investment returns over the long term. We suggest selecting a property with mass market appeal, including considering the indoor/outdoor connection.

Section and building presentation
Often the easiest improvements are the cosmetic ones and they often lead to significant gains in value and rent. When buying, consider ways that you might improve the presentation. Alternatively, buying a home that is immaculately presented can save downtime at the beginning of a tenancy and get income flowing immediately.


Privacy
This is often overlooked, but buyers are beginning to appreciate the value of privacy. The sanctuary of a person's own space is as important to most tenants as it is to the majority of buyers.


On-site parking and garaging
This is becoming more important to tenants. If it is expected that a number of people will live at the property, consider where off-road parking will be created. Plan for this, as if it is left to tenants it can be detrimental to the long-term maintenance of the property.
We also expect you'll have your own due diligence criteria for LIMs and specialist inspections. Contact us to discuss purchasing your first property investment with Lodge or to speak to one of our property experts.
---

House vs apartment vs townhouse: what's best?
The answer depends on what your goals are as an investor, the type of tenants you're hoping to attract and the amount of maintenance you are prepared to do and organise.
Houses
Pros:
Easier to attract long-term tenants, such as families. Less risk of your property standing empty for multiple periods during the year.
Better capital gains potential.
Properties clad in brick and/or uPVC will need less external maintenance.
You own the full property—no body corporates to answer to.
Cons:
The larger the section the more maintenance required, particularly in the garden.
Older houses may need more maintenance and repair work to meet the new Healthy Homes Standards in coming years.
Weatherboard homes generally require more maintenance, especially cedar clad properties.
Lower rental yield, therefore less day-to-day income to cover expenses.
Apartments
Pros:
Wide appeal—professional workers, retirees, small families.
Generally in central and accessible locations.
Less maintenance required.
Smaller garden, if at all.
Generally better rent yields than houses.
Cons:
You may be part of a body corporate, which may dictate when and how maintenance will happen and who does it.
May lack garaging/parking.
Shorter-term tenancies, especially in student areas.
Less capital gain potential.
Townhouses/Duplexes
Pros:
Popular rental option in Hamilton, therefore easy to find tenants for.
Generally better rent yields than houses.
Moderate capital gain potential.
Moderate maintenance required.
Smaller gardens to maintain.
Cons:
If you choose to rent out the duplex, you are essentially managing the maintenance and repairs of two homes (and two sets of tenants).
If you choose to live in one home and rent out the other, be aware that this is not always ideal for you or the tenant.
Garages are often smaller, meaning that storage space for maintenance essentials, such as a lawnmower, can be challenging.
Often multi-storey, which can incur extra costs for exterior maintenance (scaffolding hire).
Future demand for houses, apartments and townhouses in Hamilton
It is considered best practice among investors to diversify your property portfolio with a mix of capital gain and rental yield properties. This ensures you have a healthy income to cover your ongoing property costs while your capital wealth slowly grows over time.
Over the last few years, we've seen a boom in high density living on the Hamilton market and their popularity in both the homeowner and rental market continues to remain strong.


Rental hotspots in Hamilton
Flats:
Claudelands: 20 per cent increase in annual rent, gross yield 5.3 per cent.
Rototuna/Flagstaff: 35 per cent increase in annual rent, gross yield 5 per cent.
Dinsdale North/Nawton: 12.9 per cent increase in annual rent, gross yield 4.5 per cent.
Apartments:
Hamilton East/University: 4.1 per cent increase in annual rent, gross yield 7.7 per cent.
Deanwell/Melville/Fitzroy: 11.9 per cent increase in annual rent, gross yield 5.1 per cent.
Hamilton Central/Maeroa/Frankton Junction: 10.6 per cent increase in annual rent, gross yield 5.8 per cent.
Houses:
Dinsdale North/Nawton: 10 per cent increase in annual rent, gross yield 4.5 per cent.
Fairfield/Fairview Downs: 5 per cent increase in annual rent, gross yield 4.8 per cent.
Hamilton Central/Maeroa/Frankton Junction: 4.8 per cent increase in annual rent, gross yield 4.7 per cent.
Dinsdale South/Frankton: 5.3 per cent increase in annual rent, gross yield 4.6 per cent.
Highest areas of demand:
Hamilton East/University: 436 bonds.
Deanwell/Melville/Fitzroy: 274 bonds.
Hamilton Central/Maeroa/Frankton Junction: 177 bonds.
Te Kowhai/St Andrews/Queenwood: 167 bonds.
Flagstaff/Rototuna: 131 bonds.
---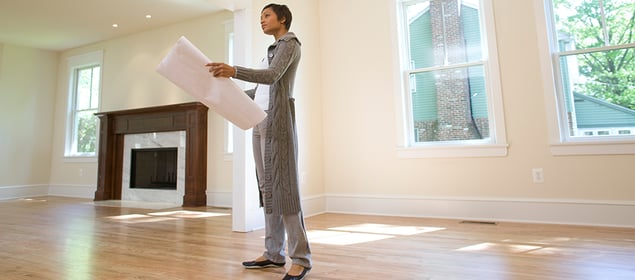 Managing a rental
Making sure your rental is compliant
Under the Residential Tenancies Act, all rental properties must have working smoke alarms and at least 70mm of insulation under the floor and in the ceiling. However, the recently announced Healthy Home Standards is set to increase the rental standards in New Zealand in a bid to make rental properties healthier for families to live in.
These new standards will come into play for private landlords and boarding houses from 1 July 2021, while the rest of New Zealand's rentals has until 1 July 2024 to catch up. According to the new standards, a rental property must have:
Heating: Rental homes must have fixed heating devices in living rooms, which can warm rooms to at least 18°C. Some heating devices are inefficient, unaffordable or unhealthy, and they will not meet the heating standard requirements.
Insulation: Rental homes must have ceiling and underfloor insulation that either meets the 2008 Building Code or (for existing ceiling insulation) is at least 120mm thick.
Ventilation: Rental homes must have the right size extractor fans in kitchens and bathrooms, and opening windows in the living room, dining room, kitchen and bedrooms.
Moisture and drainage: Rental homes must have efficient drainage and guttering, downpipes and drains. If a rental home has an enclosed subfloor, it must have a ground moisture barrier if it's possible to install one.
Draught-stopping: Rental homes must have no unnecessary gaps or holes in walls, ceilings, windows, floors, and doors that cause noticeable draughts. All unused chimneys and fireplaces must be blocked.
Read more: Dos and don'ts of keeping a home warm and healthy | Understanding the health and safety act as a property owner
Your role as a landlord
If you choose to self-manage your rental be aware of your responsibilities as a landlord, which include:
Finding and screening tenants.
Managing tenancy contracts.
Collecting rent.
Following up rent arrears.
Organising inspections.
Managing maintenance.
Managing repairs.
Record keeping.
Read more: The Landlord's Handbook | Who's responsible for property maintenance?
Your legal obligations
In addition to the list above, being a landlord comes with many legal obligations, such as ensuring the property:
Is safe and in reasonable condition.
Meets all building and regulation standards.
Has working smoke alarms.
Has the legally required insulation.
Has a caretaker or agent if you are out of New Zealand for more than 21 days.
Be aware that while you may own the property of your tenant, it is still their home and as such, they also have a right to:
Peace and quiet.
Privacy—you cannot enter the property without their informed consent first.
Know if the property goes on sale.
Read more: Tenant rights: 6 rules you should know | 5 ways to decide if you need a property manager | Weighing up property management [infographic]
Too much to take on?
Don't think you have the time or mental space to be a landlord? It doesn't mean you should bow out of property investing. Hiring a property manager is a cost-effective way to meet all your obligations of owning a rental. They'll handle the day to day running of your rental(s), giving you the space to focus on what matters to you. Whether that's planning your next property purchase or renovating a current property to grow its rental yield, the choice is yours.
---

---
Next steps
In addition to the information on this website, we encourage you to come and speak with one of our property specialists before you start out. You'll work out whether yield and capital gain investments are better suited to you based on your own financial situation and propensity for risk.
---
1. Reserve Bank of New Zealand, 2019.
2. Ibid.
3. ASB, 2019.
4. QV.co.nz, April 2019.